Top Ten Tuesday; Most Anticipated Books Releasing In the Second Half of 2022
It's Tuesday, which means it's time for a new Top Ten Tuesday post, courtesy of
That Artsy Reader Girl
, and the theme of the week is most anticipated books releasing in the second half of 2022.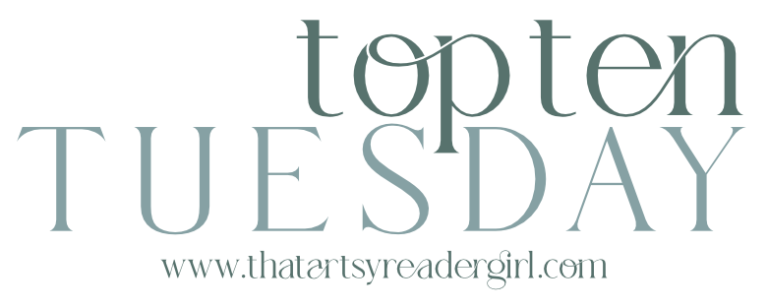 Here's my picks.
The Daughter of Doctor Moreau by Silvia Moreno Garcia
Description from Goodreads
From the New York Times bestselling author of Mexican Gothic and Velvet Was the Night comes a dreamy reimagining of The Island of Doctor Moreau set against the backdrop of nineteenth-century Mexico.
Carlota Moreau: a young woman, growing up in a distant and luxuriant estate, safe from the conflict and strife of the Yucatán peninsula. The only daughter of either a genius, or a madman.
Montgomery Laughton: a melancholic overseer with a tragic past and a propensity for alcohol. An outcast who assists Dr. Moreau with his scientific experiments, which are financed by the Lizaldes, owners of magnificent haciendas and plentiful coffers.
The hybrids: the fruits of the Doctor's labor, destined to blindly obey their creator and remain in the shadows. A motley group of part human, part animal monstrosities.
All of them living in a perfectly balanced and static world, which is jolted by the abrupt arrival of Eduardo Lizalde, the charming and careless son of Doctor Moreau's patron, who will unwittingly begin a dangerous chain reaction.
For Moreau keeps secrets, Carlota has questions, and in the sweltering heat of the jungle, passions may ignite.
Moonflower by Kacen Callender
Description from Goodreads
National Book Award winner Kacen Callender delivers a captivating novel about a child facing the other-worldly shadows of depression.
Moon has been plunged into a swill of uncertainty and confusion. They travel to the spirit realms every night, hoping never to return to the world of the living.
But when the realm is threatened, it's up to Moon to save the spirit world, which sparks their own healing journey through the powerful, baffling, landscape that depression can cause.
From this novel's very first utterance, author Kacen Callender puts us behind Moon's eyes so that we, too, are engulfed by Moon's troubling exploration through mental illness.
Moon's mom is trying her best, but is clueless about what to do to reach the ugly roiling of her child's inner struggles. At the same time, though, there are those who see Moon for who they are – Blue, the Keeper, the Magician, Wolf. These creature-guides help Moon find a way out of darkness. The ethereal aspects of the story are brilliantly blended with real-world glimmers of light. Slowly, Moon grows toward hope and wholeness, showing all children that each and every one of us has a tree growing inside. That our souls emerge when we discover, and fully accept, ourselves.
Drawn from the author's own experience through depression as a young person, this carefully orchestrated, unique novel is deeply spiritual. Moonflower will challenge you to think beyond traditional storytelling – to reach. To weep. To discover. To cheer this feat of nuanced writing that speaks directly to the heart.
Empty Smiles by Katherine Arden
Description from Goodreads
New York Times bestselling author Katherine thrills once again in the finale to the critically acclaimed, spook-tacular quartet that began with Small Spaces.
It's been three months since Ollie made a daring deal with the smiling man to save those she loved, and then vanished without a trace. The smiling man promised Coco, Brian and Phil, that they'd have a chance to save her, but as time goes by, they begin to worry that the smiling man has lied to them and Ollie is gone forever. But finally, a clue surfaces. A boy who went missing at a nearby traveling carnival appears at the town swimming hole, terrified and rambling. He tells anyone who'll listen about the mysterious man who took him. How the man agreed to let him go on one condition: that he deliver a message. Play if you dare.
Game on! The smiling man has finally made his move. Now it's Coco, Brian, and Phil's turn to make theirs. And they know just where to start. The traveling carnival is coming to Evansburg.
Meanwhile, Ollie is trapped in the world behind the mist, learning the horrifying secrets of the smiling man's carnival, trying everything to help her friends find her. Brian, Coco and Phil will risk everything to rescue Ollie—but they all soon realize this game is much more dangerous than the ones before. This time the smiling man is playing for keeps.
The summer nights are short, and Ollie, Coco, Brian, and Phil have only until sunrise to beat him once and for all—or it's game over for everyone.
The Locked Room by Elly Griffiths
Description from Goodreads
The fourteenth novel in the acclaimed and bestselling Dr Ruth Galloway Mysteries. Ruth and Nelson are on the hunt for a murderer when Covid-19 rears its ugly head. But can they find the killer despite lockdown?
Ruth is in London clearing out her mother's belongings when she makes a surprising discovery: a photograph of her Norfolk cottage taken before Ruth lived there. Her mother always hated the cottage, so why does she have a picture of the place? As she died three years ago, Ruth can't exactly ask her, and her father denies all knowledge of the picture. The only clue is written on the back of the photo: Dawn, 1969.
Ruth returns to Norfolk determined to solve the mystery, but then Covid-19 rears its ugly head. Ruth and her daughter are locked down in their cottage, attempting to continue with work and lessons, but, in reality, becoming lonely and frustrated. Happily the house next door is rented by a nice woman called Sally, who they become friendly with while standing on their doorstep clapping for carers.
Nelson, meanwhile, has no time to be bored. He's investigating a series of suicides that could be the work of a serial killer. It's only when he links them to an archaeological discovery that he thinks of Ruth. He breaks curfew to visit the cottage to find Ruth chatting to her neighbour, whom he remembers as Dawn Lancaster, a carer who was once tried for murdering her employer. When the deaths continue, Nelson vows to take Ruth and Kate to live with him. But they, and Dawn, have vanished.
Lark & Kasim Start a Revolution by Kacen Callender
Description from Goodreads
When 17-year-old nonbinary, neurodivergent and aspiring writer Lark pretends that they are the creator of a viral thread that their ex-best friend, Kasim, accidentally posted onto their Twitter account, declaring his unrequited love, things get out of hand fast. As Lark's lie deepens and they begin a famous relationship with their own crush, Lark searches for the courage to speak the truth and discover how their own self-love can be a revolution.
The Matchmaker's Gift by Lynda Cohen Loigman
Description from Goodreads
From Lynda Cohen Loigman, the bestselling author of The Two-Family House and The Wartime Sisters, comes a heartwarming story of two extraordinary women from two different eras who defy expectations to utilize their unique gift of seeing soulmates in the most unexpected places in The Matchmaker's Gift.
Is finding true love a calling or a curse?
Even as a child in 1910, Sara Glikman knows her gift: she is a maker of matches and a seeker of soulmates. But among the pushcart-crowded streets of New York's Lower East Side, Sara's vocation is dominated by devout older men—men who see a talented female matchmaker as a dangerous threat to their traditions and livelihood. After making matches in secret for more than a decade, Sara must fight to take her rightful place among her peers, and to demand the recognition she deserves.
Two generations later, Sara's granddaughter, Abby, is a successful Manhattan divorce attorney, representing the city's wealthiest clients. When her beloved Grandma Sara dies, Abby inherits her collection of handwritten journals recording the details of Sara's matches. But among the faded volumes, Abby finds more questions than answers. Why did Abby's grandmother leave this library to her and what did she hope Abby would discover within its pages? Why does the work Abby once found so compelling suddenly feel inconsequential and flawed? Is Abby willing to sacrifice the career she's worked so hard for in order to keep her grandmother's mysterious promise to a stranger? And is there really such a thing as love at first sight?
Ghost Eaters by Clay McLeod Chapman
Description from Goodreads
For fans of Riley Sager and Paul Tremblay, a terrifying supernatural page-turner that explores ghosts, grief, and god complexes.
Ever since their on-again, off-again college romance, Erin hasn't been able to set a single boundary with charismatic but reckless Silas, who's been chasing the next big high since graduation. When he texts her to spring him out of rehab, she knows enough is enough. She's ready to start a career, make new friends, and meet a great guy—even if that means cutting Silas off. But when Silas turns up dead from an overdose, Erin's world falls apart.
When Erin learns that Silas discovered a drug that allowed him to see the dead, she doesn't believe it's real but agrees to a pill-popping "séance" to ease her guilt and pain. When she steps back into the real world, she starts to see ghosts from her Southern hometown's bloody and brutal past everywhere. Are the effects pharmacological or something more sinister? And will Erin be able to shut the Pandora's box of horrors she's opened?
With propulsive momentum, bone-chilling scares, and dark meditations on the weight of history, this Southern horror will make you think twice about opening doors to the unknown.
As Long as the Lemon Tree Grow by Zoulfa Katouh
Description from Goodreads
For fans of THE BOOK THIEF and SALT TO THE SEA.
Salama Kassab was a pharmacy student when the cries for freedom broke out in Syria. She still had her parents and her big brother; she still had her home. She had a normal teenager's life.
Now Salama volunteers at a hospital in Homs, helping the wounded who flood through the doors daily. Secretly, though, she is desperate to find a way out of her beloved country before her sister-in-law, Layla, gives birth. So desperate, that she has manifested a physical embodiment of her fear in the form of her imagined companion, Khawf, who haunts her every move in an effort to keep her safe.
But even with Khawf pressing her to leave, Salama is torn between her loyalty to her country and her conviction to survive. Salama must contend with bullets and bombs, military assaults, and her shifting sense of morality before she might finally breathe free. And when she crosses paths with the boy she was supposed to meet one fateful day, she starts to doubt her resolve in leaving home at all.
Soon, Salama must learn to see the events around her for what they truly are—not a war, but a revolution—and decide how she, too, will cry for Syria's freedom.
The Witch and the Tsar by Olesya Salnikova Gilmore
Description from Goodreads
In this stunning debut novel, the maligned and immortal witch of legend known as Baba Yaga will risk all to save Russia and her people from Tsar Ivan the Terrible--and the dangerous gods who seek to drive the twisted hearts of men.
As a half-goddess possessing magic, Yaga is used to living on her own, her prior entanglements with mortals having led to heartbreak. She mostly keeps to her hut in the woods, where those in need of healing seek her out, even as they spread rumors about her supposed cruelty and wicked spells. But when her old friend Anastasia--now the wife of the Tsar, and suffering from a mysterious illness--arrives in her forest desperate for her protection, Yaga realizes the fate of all of Russia is tied to Anastasia's. Yaga must step out of the shadows to protect the land she loves.
As she travels to Moscow, Yaga witnesses a sixteenth century Russia on the brink of chaos. Tsar Ivan--soon to become Ivan the Terrible--grows more volatile by the day, and Yaga believes the Tsaritsa is being poisoned by an unknown enemy. But what Yaga cannot know is that Ivan is being manipulated by powers far older and more fearsome than anyone can imagine.
Olesya Salnikova Gilmore weaves a rich tapestry of mythology and Russian history, reclaiming and reinventing the infamous Baba Yaga, and bringing to life a vibrant and tumultuous Russia, where old gods and new tyrants vie for power. This fierce and compelling novel draws from the timeless lore to create a heroine for the modern day, fighting to save her country and those she loves while also finding her true purpose as a goddess, a witch, and a woman.
Angelika Frankenstein Makes Her Match by Sally Thorne
Description from Goodreads
From USA Today bestselling author of The Hating Game Sally Thorne comes something a little unexpected... a historical rom-com that imagines Victor Frankenstein's sheltered younger sister, and her attempts to create the perfect man.
For generations, every Frankenstein has found their true love and equal, unlocking lifetimes of blissful wedded adventure. Clever, pretty (and odd) Angelika Frankenstein has run out of suitors and fears she may become the exception to this family rule. When assisting in her brother Victor's ground-breaking experiment to bring a reassembled man back to life, she realizes that having an agreeable gentleman convalescing in the guest suite might be a chance to let a man get to know the real her. For the first time, Angelika embarks upon a project that is all her own.
When her handsome scientific miracle sits up on the lab table, her hopes for an instant romantic connection are thrown into disarray. Her resurrected beau (named Will for the moment) has total amnesia and is solely focused on uncovering his true identity. Trying to ignore their heart-pounding chemistry, Angelika reluctantly joins the investigation into his past, hoping it will bring them closer. But when a second suitor emerges to aid their quest, Angelika wonders if she was too hasty inventing a solution. Perhaps fate is not something that can be influenced in a laboratory? Or is Will (or whatever his name is!) her dream man, tailored for her in every way? And can he survive what was done to him in the name of science, and love?
Filled with carriages, candlesticks, and corpses, Angelika Frankenstein Makes Her Match is the spooky-season reimagining of the well-known classic that reminds us to never judge a man by his cadaver!