Top Ten Tuesday; Cosy Reads
It's Tuesday and perhaps it's time for a new Top Ten Tuesday, courtesy of
That Artsy Reader Girl
and the theme of the week was cosy reads.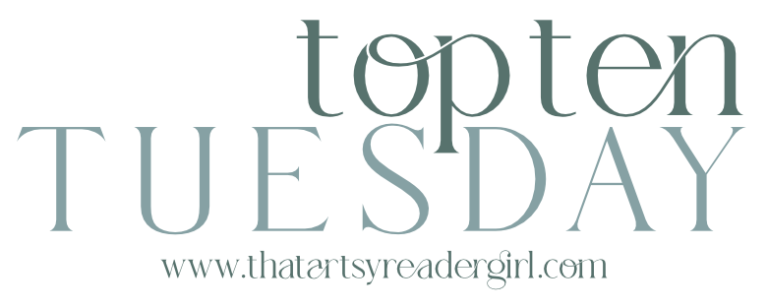 Here's my ten picks.
The Twistrose Key by Tone Almhjell
Description from Goodreads
A striking middle-grade debut in the tradition of The Chronicles of Narnia and The Golden Compass
When a mysterious parcel arrives at her family's new home, eleven-year-old Lin Rosenquist has a curious feeling she's meant to discover what's inside.
Much to Lin's surprise, the ornate key contained in the parcel unlocks a spellbinding world called Sylver, hidden behind the cellar door. Sylver is an enchanting land of eternal winter, inhabited by animals that shared a special connection with children in the real world, either as beloved pets or tamed wild animals. In death, they are delivered to Sylver, where they take on a curiously human-like form and still watch over the children they cherish. While Lin is overjoyed to be reunited with her beloved pet, Rufus, she soon learns that the magic of the Petlings and Wilders is failing, and snow trolls want to claim Sylver for themselves. Lin must discover a way to stop them and save this enchanted world.
Full of charm, suspense, and heartfelt emotion, this memorable classic in the making will leave readers breathless.
The Vampire Knitting Club by Nancy Warren
Description from Goodreads
At a crossroads between a cringe-worthy past (Todd the Toad) and an uncertain future (she's not exactly homeless, but it's close), Lucy Swift travels to Oxford to visit her grandmother. With Gran's undying love to count on and Cardinal Woolsey's, Gran's knitting shop, to keep her busy, Lucy can catch her breath and figure out what she's going to do.
Except it turns out that Gran is the undying. Or at least, the undead. But there's a death certificate. And a will, leaving the knitting shop to Lucy. And a lot of people going in and out who never use the door—including Gran, who is just as loving as ever, and prone to knitting sweaters at warp speed, late at night. What exactly is going on?
When Lucy discovers that Gran did not die peacefully in her sleep, but was murdered, she has to bring the killer to justice without tipping off the law that there's no body in the grave. Between a hot 500-year-old vampire and a dishy detective inspector, both of whom always seem to be there for her, Lucy finds her life getting more complicated than a triple cable cardigan. The only one who seems to know what's going on is her cat ... or is it ... her familiar?
Astrid and Veronika by Linda Olsson
Description from Goodreads
With extraordinary emotional power, Linda Olsson's stunningly well-crafted debut novel recounts the unusual and unexpected friendship that develops between two women. Veronika, a young writer from New Zealand, rents a house in a small Swedish village as she tries to come to terms with a recent tragedy while also finishing a novel. Her arrival is silently observed by Astrid, an older, reclusive neighbor who slowly becomes a presence in Veronika's life, offering comfort in the form of companionship and lovingly prepared home-cooked meals. Set against a haunting Swedish landscape, Astrid & Veronika is a lyrical and meditative novel of love and loss, and a story that will remain with readers long after the characters' secrets are revealed.
Wooing the Farmer by Jenny Frame
Description from Goodreads
Penelope Huntingdon-Stewart, highly successful clean-eating food vlogger and owner of the website Penny's Kitchen, is looking for a new direction for her brand. At least that's what she tells herself when she retreats to Axedale to record a new web series and write a cookbook. That sounds so much better than damage control after her only live, on-screen interview ends in an oh-so-public epileptic seizure.
Farmer Sam McQuade is immediately attracted to Penelope, but the ultra femme and high maintenance city girl seems way out of her league. When Penelope struggles to get her health on track, Quade insists on being her knight in shining armor, much to Penelope's displeasure. Quade is annoyingly good-looking, not to mention kindhearted, and falling for her would be so easy. If only it didn't force Penelope to face the secrets she's hidden from everyone. Can love alone bring a complex city girl and a simple rural farmer together?
The Little Paris Bookshop by Nina George
Description from Goodreads
Monsieur Perdu calls himself a literary apothecary. From his floating bookstore in a barge on the Seine, he prescribes novels for the hardships of life. Using his intuitive feel for the exact book a reader needs, Perdu mends broken hearts and souls. The only person he can't seem to heal through literature is himself; he's still haunted by heartbreak after his great love disappeared. She left him with only a letter, which he has never opened.
After Perdu is finally tempted to read the letter, he hauls anchor and departs on a mission to the south of France, hoping to make peace with his loss and discover the end of the story. Joined by a bestselling but blocked author and a lovelorn Italian chef, Perdu travels along the country's rivers, dispensing his wisdom and his books, showing that the literary world can take the human soul on a journey to heal itself.
Internationally bestselling and filled with warmth and adventure, The Little Paris Bookshop is a love letter to books, meant for anyone who believes in the power of stories to shape people's lives.
Chocolat by Joanne Harris
Description from Goodreads
When the exotic stranger Vianne Rocher arrives in the old French village of Lansquenet and opens a chocolate boutique called "La Celeste Praline" directly across the square from the church, Father Reynaud identifies her as a serious danger to his flock. It is the beginning of Lent: the traditional season of self-denial. The priest says she'll be out of business by Easter.
To make matters worse, Vianne does not go to church and has a penchant for superstition. Like her mother, she can read Tarot cards. But she begins to win over customers with her smiles, her intuition for everyone's favourites, and her delightful confections. Her shop provides a place, too, for secrets to be whispered, grievances aired. She begins to shake up the rigid morality of the community. Vianne's plans for an Easter Chocolate Festival divide the whole community. Can the solemnity of the Church compare with the pagan passion of a chocolate éclair?
For the first time, here is a novel in which chocolate enjoys its true importance, emerging as an agent of transformation. Rich, clever, and mischievous, reminiscent of a folk tale or fable, this is a triumphant read with a memorable character at its heart.
Cooking for Ghosts by Patricia V. Davis
Description from Goodreads
Do hearts broken long ago forever leave a tangible trace?
A Vegas cocktail waitress. An Indian herbalist. A British chemistry professor. An Italian-American widow. Four unique women with one thing in common: each is haunted by a tragedy from her past.
Cynthia, Rohini, Jane, and Angela meet on a food blogging site and bond over recipes. They decide on impulse to open The Secret Spice, an elegant café on the magnificent ocean liner, the RMS Queen Mary, currently a floating hotel in Long Beach, California. Rich in history and tales of supernatural occurrences, the ship hides her own desperate secrets.
The women are surrounded by ghosts long before they step aboard, but once they do, nothing is quite what it seems. Not the people they meet, not their brooding chef's mystic recipes, and not the Queen Mary herself. Yet the spirits they encounter help them discover that there's always a chance to live, as long as one is alive.
The Hocus Pocus Magic Shop by Abigail Drake
Description from Goodreads
When chemist Grace O'Leary finds a book of magic spells hidden in her Aunt Lucy's run-down magic shop, the scientist in her itches to try them out. She mixes up a batch of love potions as a joke, and has to face the consequences when they actually seem to work.
Her dream of becoming a professor is in peril, and time is running out to finish research for her dissertation. She can't handle any more distractions, but the magic shop is on the verge of closing, her aunt has become forgetful and confused, and a handsome reporter named Dario Fontana keeps sniffing around for a story. The last thing she needs is for him to find out about the love potions and expose her as fraud, but she begins to trust him, and the sizzling chemistry between them is soon too powerful to deny.
With her personal and professional life in chaos, and her budding relationship with Dario in jeopardy, Grace is faced with a difficult choice. Fixing what is broken means going against every logical bone in her body. Can Grace learn to silence her scientific brain long enough to accept the truth about magic…and also about herself?
The Little Bookshop of Love Stories by Jaimie Admans
Description from Goodreads
Today is the Mondayest Monday ever. Hallie Winstone has been fired – and it wasn't even her fault!
Having lost her job and humiliated herself in front of a whole restaurant full of diners, this is absolutely, one hundred percent, the worst day of her life.
That is until she receives an email announcing that she is the lucky winner of the Once Upon a Page Bookshop!
Owning a bookshop has always been Hallie's dream, and when she starts to find secret love letters on the first pages of every book, she knows she's stumbled across something special.
Things get even better when she meets gorgeous, bookish Dimitri and between them, they post a few of the hidden messages online, reuniting people who thought they were lost forever.
But maybe it's time for Hallie to find her own happy-ever-after, too?
Fifteen Seconds of Normal by Alex Marestaing
Description from Goodreads
"There's an unfortunate side effect of love, an infinite ache that keeps us up at night."
In a normal love story, she'd drop her papers, and he'd pick them up. They'd lock eyes, and their forevers would begin…but this isn't your ordinary love story.
Fifteen Seconds of Normal chronicles the desperate days of three seventeen-year-olds struggling through the worst month of their lives. Kaeya, a transfer student on a quest to hide her Tourette Syndrome. Thatcher, a literature obsessed junior on the edge of a breakdown. And, Sam, an indie film maker with a secret of his own.
When the three meet in their school's abandoned art gallery, they come up with a daring plan to rewrite the narrative, change the world, and find their fifteen seconds of normal.