Review; Purring Around the Christmas Tree by Liz Mugavero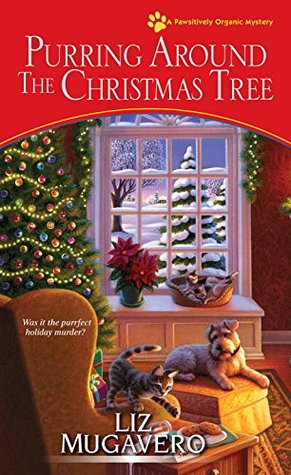 As it is December, it's time for another review of a Christmas-related book. Today I'll review the cosy mystery Purring Around the Christmas Tree by Liz Mugavero.
Description from Goodreads
In the New England town of Frog's Ledge, the Holiday Light Festival is a Christmas tradition. Killing Santa is not. To bring joy back to the season, organic pet patisserie owner Kristan "Stan" Connor will have to find another Santa before it's too late . . .
To the townspeople's delight, the annual lighting of the tree is a spectacular success. Unfortunately, Santa pulled up in his sleigh, DOA. At first Stan is sure it's Seamus, her boyfriend's uncle, inside the red suit. But the victim turns out to be an employee from the town's Christmas tree farm. Rumor has it the deceased was a mean drunk with a soft spot for feral cats. Stan has no idea why he was dressed as St. Nick--or why he's dead.
Meanwhile, Seamus, a jolly Irishman who comes to America every December to visit his pub-owner nephew, is nowhere to be found. Could he just be off on a Boston bar crawl? Or is something more sinister under the tree? Seamus was supposed to be dressing up and posing for pet pictures with Santa at the shop, but the dogs and cats might have to find another lap to curl up in if Stan doesn't solve two mysteries soon. Or murder might be the only thing under the mistletoe this holiday . . .
Includes Gourmet Pet Food Recipes!
My Thoughts on the Book
It's an entertaining read that's well written and paced, in addition to some interesting secondary characters. What frustrated me a tad bit was that it seemed like Stan was more focused on solving the crime, rather than her job (even though I know this is a mystery novel). On the bright side, I enjoyed the book overall.