Omtale; Animal Farm av George Orwell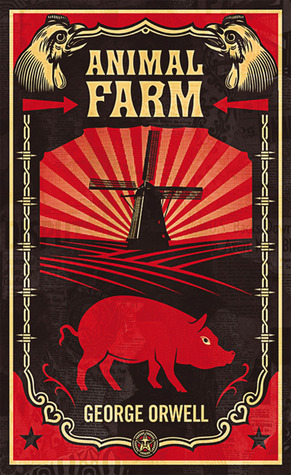 I forbindelse med Back to the Classics (A classic which has been banned or censored) samt Book Riot Read Harder Challenge (Read a book about politics, in your country or another - fiction or nonfiction) endte jeg opp med å lese Animal Farm av George Orwell.
På Manor Farm er dyrene møkka lei av hvordan bonden herser med dem, og ender opp med å lage sin egen revolusjon. Dyrene driver gården på egen hånd, med sine egne regler. Eneste er at Snowball og Napoleon, lederne, som justerer en del ting etter hvert til sitt eget (og grisene) sitt behov. Satiren Animal Farm er forøvrig en satire på Stalin's Russland.
En trenger ikke å være rakettforsker for å se humoren i boka, og det var flere ganger hvor jeg endte opp med å flire. I tillegg blir ting ofte satt litt på spissen, noe jeg har sansen for.