World Literature Project
I've got a project going on and it's to read a book from every country of the world to the extent that it's possible. On this page, I'll update the list every time I manage to read a new book for this project, just to keep track of my progress.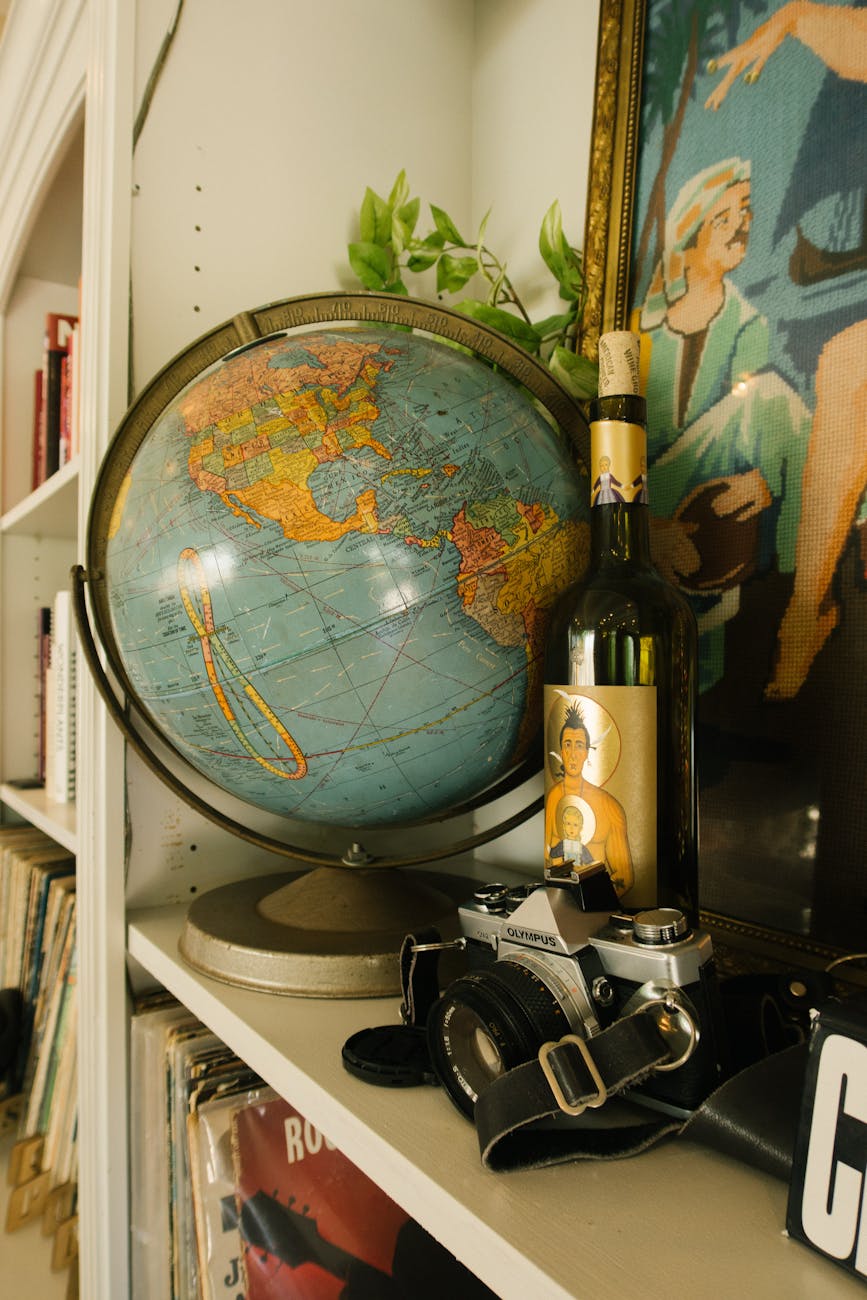 Stock photo from Pexels
Afghanistan
Albania; Ismail Kadare - The Successor
Algeria
Andorra
Angola; José Eduardo Agualusa - The Book of Chameleons
Antigua and Barbuda; Jamaica Kincaid - At the Bottom of the River
Argentina; Che Guevara - The Motorcycle Diaries
Armenia - Zoyâ Pirzâd - Vi venner oss til det
Australia; Max Barry - Jennifer Government
Austria; Angelika Rust - The Girl on the Red Pillow
Azerbaijan
Bahamas; K. A. Ashbury - Life On A Rock
Bahrain
Bangladesh; Munayem Mayenin - The Sound of Eternity
Barbados; Karen Lord - Redemption in Indigo
Belarus; Svetlana Aleksijevitsj - Bønn for Tsjernobyl
Belgium; Marguerite Yourcenar - Memoirs of Hadrian
Belize
Benin; Raouf Mama - Why Monkeys Live in Trees and Other Stories from Benin
Bhutan
Bolivia; Liliana Colanzi - Our Dead World Bosnia and Herzegovina; Nenad Velickovic - Min datters far
Botswana; Alexander McCall Smith - The No. 1 Ladies' Detective Agency
Brazil; Paulo Coelho - Veronika vil dø
Brunei Darussalam
Bulgaria; Elias Canetti - Stemmene fra Marrakech
Burkina Faso
Burundi; John Bosco Ngendakurio - Kryssild: Mitt liv som flyktning
Cabo Verde; Germano Almeida - The Last Testament & Will of Senhor da Silva Araújo
Cambodia; Loung Ung - First They Killed My Father
Cameroon
Canada; Leonard Cohen - Book of Longing
Central African Republic
Chad
Chile; Carmen Rodriguez - Chile's døtre
China; Chun Sue - Beijing Doll
Colombia; Gabriel García Marquez - Alle mine triste horer
Comoros
Congo
Costa Rica
Côte d'Ivoire; Marguerite Abouet - Aya
Croatia
Cuba; Fabiola Santiago - Habanita
Cyprus
Czech Republic; Hana Doskocilova/Zdenek Miler - Muldvarpen feirer jul
Democratic People's Republic of Korea (North Korea); Bandi - The Accusation
Democratic Republic of the Cong
Denmark; Jussi Adler-Olsen - Alfabethuset
Djibouti; Abdourahman A Waberi - Transit
Dominica; Alick Lazare - Pharcel Runaway Slave
Dominican Republic; Junot Díaz - The Brief Wondrous Life of Oscar Wao
Ecuador
Egypt; Nawal el-Saadawi - Woman at Point Zero
El Salvador; Roque Dalton - Small Hours of the Night
Equatorial Guinea
Eritrea
Estonia; Sofi Oksanen - Purge
Ethiopia; Mahteme- Sillase Welde-Mesqel - Hvorfor skulle jeg sove?
Fiji
Finland; Tove Jansson - Sommarboken
France; Marguerita Durás - Elskeren
Faroe Islands; Jógvan Isaksen - Blid er sommarnatta
Gabon
Gambia
Georgia
Germany; Michael Wallner - April i Paris
Ghana; Amma Darko - Faceless
Greece; Sophocles - Antigone
Greenland; Mads Peter Nordbo - Jenta uten hud Grenada; Jacob Ross - Pynter Bender
Guatemala; Eduardo Halfon - Den polske bokseren
Guinea; Camara Laye - The Dark Child
Guinea-Bissau
Guyana; Karen King-Aribisala - Bitter Leafing Woman
Haiti; Edwidge Danticat - Breath, Eyes, Memory
Honduras
Hungary; Imre Kertész - Uten skjebne
Iceland; Yrsa Sigurdardottir - DNA
India; Preethi Nair - Gypsy Masala
Indonesia; Pramoedya Ananta Toer - The Girl from the Coast
Iran; Kader Abdolah - Huset ved moskeen
Iraq; Riverbend - Baghdad Burning - Girl Blog From Iraq
Ireland; Bram Stoker - Dracula
Israel; Ari Folman - Vals med Bashir
Italy; Melissa Panarello - 100 tak med hårbørsten før sengetid
Jamaica; Fiona Zedde - A Lover's Mercy
Japan; Hitomi Hanekara - Slanger, piercing
Jordan
Kazakhstan; Sergei Lukyanenko - The Night Watch
Kenya; Shailja Patel - Migritude
Kiribati
Kurdistan; Mehmed Uzun - I skyggen av forspilt kjærlighet
Kuwait
Kyrgyzstan
Lao People's Democratic Republic (Laos)
Latvia; Janis Jonevs - Fordømte '94
Lebanon; Rabih Alameddine - En overflødig kvinne
Lesotho
Liberia; Won-Ldy Paye - Mrs Chicken and the Hungry Crocodile
Libya; Hisham Matar - Hjemkomsten
Liechtenstein
Lithuania; Ruta Sepetys - En spire av håp
Luxembourg
Macedonia; Goce Smilevski - Freud's Sister
Madagascar
Malawi; Jack Mapanje - The Last of the Sweet Bananas
Malaysia; Preeta Samarsan - Kveld hele dagen
Maldives
Mali
Malta
Marshall Islands
Mauritania
Mauritius; Nathacha Appanah - The Last Brother
Mexico; Georgina Morales - Perpetual Night
Micronesia (Federated States of)
Monaco
Mongolia
Montenegro
Morocco; Nedjma - Mandelen
Mozambique; Mia Courto - Under frangipanitreet
Myanmar; Pascal Khoo Thwee - From the Land of Green Ghosts
Namibia
Nauru
Nepal; Santosh Kalwar - Yet Another Book of Poems
Netherlands - Tessa de Loo - Tvillingene
New Zealand
Nicaragua
Niger
Nigeria - Chimamanda Ngozi Adicie - Purple Hibiscus
Norway; Maja Lunde - Bienes historie
Oman
Pakistan; Mukhtar Mai - Vanæret
Palau
Palestine; S. Yizhar - Khirbeth Khizah
Panama
Papua New Guinea
Paraguay
Peru; Mario Vargas Llosa - Der fem veier møtes
Philippines - Tess Uriza Holthe - When the Elephants Dance
Poland - Slavomir Rawicz - The Long Walk
Portugal
Puerto Rico; Esmeralda Santiago - Sukkerplantasjen på Puerto Rico
Qatar
Republic of Korea (South Korea) - Shin Kyung-Sook - Ta vare på mamma
Republic of Moldova
Romania - Iana Matei - Til salgs: Mariana, 15 år
Russian Federation; Anya Ullnich - Petropolis
Rwanda; Immaculée Ilibagiza - Vitne
Saint Kitts and Nevis
Saint Lucia
Saint Vincent and the Grenadines
Samoa; Sia Figiel - Where We Once Belonged
San Marino
Sao Tome and Principe
Saudi Arabia; Mohammed Hasan Alwan - Beveren
Scotland; Peter May - Coffin Road Senegal; Mariama Bâ - So Long a Letter Serbia; Veselin Markovic - Vi som er annerledes
Seychelles
Sierra Leone; Ishmael Beah - En bedre dag i morgen
Singapore; Timothy Joshua - Transience
Slovakia
Slovenia
Solomon Islands; Graeme Kent - Devil-Devil
Somalia; Nadifa Mohamed - Svart mamba
South Africa; Kopano Matlwa - Menssmerter
South Sudan
Spain; Arturo Pérez-Reverte - Tangodanseren
Sri Lanka; Romesh Gunesekera - Reef
Sudan; Tayeb Salih - Season of the Migration to the North
Suriname
Swaziland; Sarah Mkhonza - Weeding the Flowerbeds
Sweden; Astrid Lindgren - Ronja Røverdatter
Switzerland
Syrian Arab Republic; Osama Alomar - Fullblood Arabian
Tajikistan
Thailand; Minfong Ho - Hush! A Thai Lullaby
Tibet
Timor-Leste
Togo; Téte-Michel Kpomassie - En afrikaner på Grønland
Tonga
Trinidad and Tobago; V. S. Naipaul - The Mystic Masseur
Tsjuvasija; Gennardij Ajgi; Forutaning om eit rekviem
Tunisia; Lina Ben Mhenni - Tunisian Girl; Blogger i den arabiske våren
Turkey; Elif Shafak - Arkitektens læregutt
Turkmenistan
Tuvalu
Uganda; Doreen Baingana - Tropical Fish
Ukraine; Nikolai Gogol - Dead Souls
United Arab Emirates; Wael Al-Sayegh - A Poet's Oud
United Kingdom of Great Britain and Northern Ireland; J. R. R. Tolkien - Hobbiten
United Republic of Tanzania
United States of America; Edgar Allan Poe - The Fall of the House of Usher
Uruguay; Carolina De Robertis - Perla
Uzbekistan
Vanuatu
Virgin Islands; Kheryn Callender - Hurricane Child
Venezuela; Karina Sainz Borgo - Det ble natt i Caracas
Vietnam; Lan Cao - The Lotus and the Storm
Yemen; Nujood Ali - I Am Nujood, Age 10 and Divorced
Zambia; Wilbur Smith - King of Kings
Zimbabwe; Petina Gappah - Klagesang for Easterly