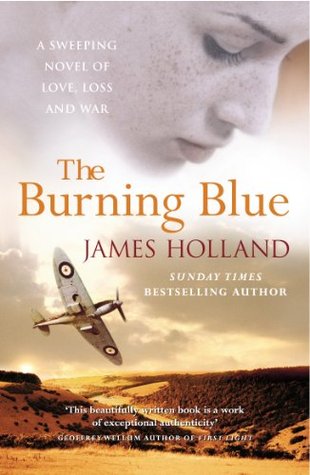 (This post contains affiliate links)
The Burning Blue
is the second novel by James Holland I've read in a short period of time and today I'll post the review of the novel.
Description from Goodreads
Joss Lambert has always been a loner, constrained by a secret from his past, until he finds friendship and solace firstly with Guy Liddell, a friend from school, and then with Guy's family, who welcome him into their farmhouse home. Joss increasingly comes to depend upon the Liddells and treats Alvesdon Farm as the one place where he feels not only appreciated but also truly happy. The idyll cannot last. With war looming, Joss is forced to confront the past. He escapes through flying, becoming a fighter pilot in the RAF. But with the onset of war, even the Liddells's world is crumbling. As Joss is fighting for his life in the Battle of Britain, so he begins to fall madly in love with Stella - Guy's twin - but with tragic consequences. Leaving England and the Liddells far behind, he continues to fly amid the sand and heat of North Africa, until his hopes and dreams are seemingly shattered for good.
My Thoughts On The Book
As in A Pair of Silver Wings, it is evident that James Holland knows his stuff as an historian to actually have an authentic feel in the novel. It's not like he will make the blooper of claiming that The Battle of Britain happened in spring 1945. There is also something about the descriptionns and the writing style that suck you into the novel and almost makes you feel that you are present with the characters.